RT Interviews Brenda Novak, a 2001 nominee for Best Superromance
Friday, February 23rd, 2001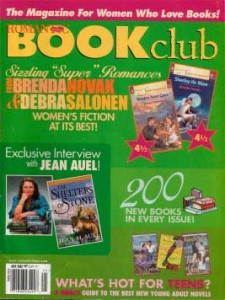 YOU'VE LIKELY READ IT BEFORE: the romance author who never in a million years imagined she'd ever be a writer and then…well, you know. You've even heard the sad tale of authors who become "orphaned" after signing their first contract because their editor gets sacked. But how many of them start with a single-title and go on to a successful career in series? Yet such is the story of Brenda Novak, who debuted with theHarper single title Of Noble Birth then went on to thrive as a Superromance author. But perhaps this unusual history is fitting for a decidedly unseries-like series line.
SHOOTING THE MOON, Novak's new contemporary, is the sixth release for this mother of five. The novel is a redemption tale whose heroine and hero, once driven apart by history, are brought together by a child–learning that love and time can heal all wounds.
Novak, a self-described "student of human nature," claims a fondness for writing about characters who face difficult decisions and learn to follow their hearts. With Superromance's embrace of character-driven narratives, this California-based author seems to have found a partnership which allows her to flourish creatively as well as professionally. The willingness of Superromance editors to consider all kinds of material has enabled her to avoid being pigeon-holed. "They give you a wider berth," she explains, "which allows you to mature as a writer." The freedom at Harlequin has given Novak the chance to flex her storytelling muscles–and just the home a literary "orphan" could want.
Article by Angela Martenez Article and Cover reproduced with permission of Romantic Times. Copyright 2002, Romantic Times Romantic Times, is a registered trademark of the publisher. All cover art for the publisher found on these pages is copyrighted by Romantic Times. All rights are reserved by the publisher.