A Romance Star is Born with Brenda Novak's debut novel, Of Noble Birth
Saturday, January 23rd, 1999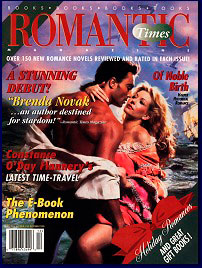 As the mother of five children between the ages of two and thirteen, Brenda Novak knows all about the miracle of birth. However, this lady is excited about a different kind of special delivery this month as her first novel, the aptly titled Of Noble Birth, published by HarperCollins, hits bookshelves.
"I'm so thrilled. I used to walk the mall and let my eyes linger longingly on all those covers in the bookstores. Now I'm going to be one of those authors. It's incredible."
Even more incredible is the way Brenda started writing romances. It was 1994 and she just had her third child. "I caught my day-care provider trying to drug my children with cough medicine. I came home one day from work and found it in one of the baby's bottles, so that really frightened me. I quit my job and needed to find some way to make money from home. I loved romances, so I decided to try to write one. Of course, it turned out to be a lot harder than I expected."
Of Noble Birth was the first fictional work she ever wrote. It took her three years of snatching time to write. When she finished, it was 800 pages long!
"I knew nothing about writing a romance. Then I found the RWA and went to a convention. I was five months pregnant and I didn't know anyone. I learned so much, it was information overload, really. But I understood the market much better. I went back and cut Noble to a normal 400-page manuscript."
Meanwhile, she began submitting it to several publishers. One house did express interest, but Brenda was about to learn a hard lesson about the biz. "We got the call that she wanted to buy it right before my anniversary. So we were celebrating and thinking all of our dreams had come true and then we got a message from her saying she wanted to know what I had for my next one." Brenda hadn't had anything planned. She quickly conjured up a few ideas, but the publisher didn't like them and decided to back off the sale.
So, Brenda got herself an agent and started entering all kinds of writing contests. "I didn't have a degree. I wasn't a doctor or lawyer. I needed to build a writer's resume. I looked at the contests as a way of setting me apart."
And it worked. Of Noble Birth earned second place in the Great Confrontations Contest sponsored by Lake Country Romance Writers and reached the finals of RWA's Golden Heart contest two years in a row. Three of her other books were entered in contests as well, and Brenda reaped a total of 16 awards in just three years. It wasn't long afterwards that HarperCollins made an offer for Of Noble Birth. "The Golden Heart really kind of clinched it for me, I think."
And this is just the beginning. Her debut novel has been reaping praise from romance enthusiasts including RT's own Kathe Robin, who rated it four stars and deemed Nathaniel, the book's hero who has a deformed arm, worthy of a K.I.S.S. award. "Nathaniel is a very dark, tortured soul, but he's a little different because he has a deformity," Brenda notes. "You don't see that much. Publishers often shy away from that stuff, but I wanted the message to be that he could conquer his obstacles despite his drawbacks. By the end, he learns nobility could only be of the heart and has nothing to do with bloodlines."
She does concede, however, that it's set in a time and place where bloodlines are of the utmost importance: Victorian England. The plot begins when Nathaniel is rejected by his nobleman father because of his deformity. Years later, he tries to seek revenge by kidnapping his half-sister. Little does he know that the woman he's struggling to control his unquenchable desire for is but a poor seamstress and not his blood relation at all. Sparks fly when the truth is revealed.
A longtime fan of historicals, Brenda's second historical is currently pending sale at Harper. Yet surprising for an author so new, her next books will be contemporaries!
"I never had any intention of writing contemporaries, but I entered a contest for a 7500-word contemporary short stor[y] and finaled. I liked the idea well enough and figured if it won something, it was probably worth expanding on."
Industrious Brenda soon pitched her idea to a Harlequin editor at a conference, who passed since she had bought a similar story recently, but who wanted to know if Brenda had other ideas. "I said, 'sure, sure,' but really I didn't have any." Undaunted, she went home, brainstormed and sent out a letter pitching five more ideas. Sure enough, her persistence paid off. Brenda's first Harlequin Superromance, titled Expectations and part of the "Nine Months Later" [series], will be out in mid-February 2000. She's sold two more to Harlequin for the Superromance line, and the books are already in the works.
Of course Brenda's no stranger to hard work. Back in 1974 she was a business major at Brigham Young University and she's helped husband Ted, an entrepreneur, start up several business ventures in the 15 years they've been married. Still, she is a bit surprised at the direction her life has taken.
"I never dreamed I could do this. For so long I thought I was a left-brained, analytical kind of person. I had no idea I could be creative. If, a year before I started, you had told me I'd be a writer, I probably would have laughed at you. Now it's all I ever want to do."
Well, they do say, the one who laughs last, laughs longest.
Article by Tara Gelsomino. Article and Cover reproduced with permission of Romantic Times. Copyright 1999, Romantic Times.
Romantic Times ®, is a registered trademark of the publisher. All cover art for the publisher found on these pages is copyrighted by Romantic Times. All rights are reserved by the publisher.