JOIN NOW
Book Group
Welcome to my book group. This is an online group of avid readers that utilizes what's called a Facebook "group" page. We are 8000 members strong and are quickly becoming friends as we share our love of books. If you are on FB and haven't joined yet, you can do so here: https://www.facebook.com/groups/brendanovaksbookgroup/.
If you just joined, the following information will bring you up to speed very quickly.
To welcome you to the group, I'd like to offer you a FREE copy of two different Brenda Novak titles. The first, WHEN WE TOUCH, is the kick-off to my critically-acclaimed small town contemporary romance series, Whiskey Creek. You can download that here: http://brendanovak.net.
The second, HANOVER HOUSE, is the kick-off to my chilling new suspense series about a psychiatrist who studies serial killers at a remote facility in Alaska (and her sexy love interest, who is an Alaskan State Trooper). You can download that one here: http://brendanovak.net/hanover-house/.
Notification Settings: To designate what you would like to see from the group, you can choose all posts, only highlights, friends' posts. Please select friends' posts and add me as a friend: //www.facebook.com/brenda.novak.169. To make sure you have set your notifications to friends' posts, simply go to Brenda Novak's Book Group at: https://www.facebook.com/groups/brendanovaksbookgroup/. On the bottom right of the banner photo, you'll see the buttons, "Joined," "Share," and "Notifications." You can click your preference there.
Book Group Meetings:
We have a meeting once a month in which we feature one of my books or that of a guest author or two. Either I will do a Live Feed, or one of the guest authors will, so that you will get to discuss the book with its creator. The event does not happen on the regular Book Group page. It happens on the "Event" tab (which you can click on at the top of the Book Group page). For June, we'll be reading NO ONE BUT YOU, book 2 of my new Silver Springs series. The party will be Thursday, 6/20 at 5:00 p.m. pacific/8:00 p.m. eastern at https://www.facebook.com/events/229122457584941/.
Book Group Bookmarks: These are not only personalized (with your full name in the actual printed design), they are autographed by me and commemorate the year you entered the group. We give these away randomly to people who participate by posting, commenting and attending the monthly meeting. If you'd like one of these and don't want to wait, you can order them from my website at this link: //brendanovak.com/store/.
.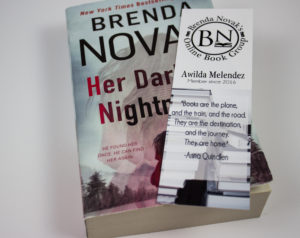 Book Group T-shirts/sweatshirts: We have a choice of three different designs. Check them out and see if you'd like to order one. You can find pricing and all the various options here: //brendanovak.com/store/.
Brenda Novak Professional Reader Boxes: These have been a HUGE hit! We sell out every month, so grab yours early. What's inside? That's different every month, but I can tell you this much: They will contain a print copy of the book we are reading for that month (autographed by the author!) or a substitute book of mine (generally one that is hard to find), two of my favorite things and a surprise gift that you won't know about until you receive the box. One random person each month will receive an even "bigger" mystery gift. We will announce the contents for the next box at each book group meeting, and you will be able to order it then or the day after (providing they're not all gone). Payment is due by the 7th of the month. The box ships three weeks later, on the first of the following month. Here's the link where you can get the next one or sign up for a monthly or yearly subscription: https://brendanovak.com/store/.
Brenda Novak LAUNCH PARTY: We are planning a big in-person mimosa brunch for Sunday, July 30th, right here in Sacramento at 11:00 a.m. (at this venue: //vizcayasacramento.com). It's going to be a great place to get to know each other better and simply enjoy a delicious meal while celebrating the release of UNTIL YOU LOVED ME, which will have just come out. You can RSVP for the party (as long as we have seats) right here: https://brendanovak.com/uulm-rsvp.
Please note, if you are coming from out of town, I have negotiated a block of rooms at the Marriott Springhill Suites in Natomas (not far from the airport). You can get a room for $109/night (so if you share with someone it will be very inexpensive). The hotel includes a free airport shuttle, free wi-fi and free breakfast each morning. Here's where you can make your reservations for the room: http://bit.ly/2kKL1fQ
The hotel is only an $8 Uber ride from Old Sacramento, which is something you'll want to see. Also, the California State Fair will be going ($8 Uber ride). In addition, I'm putting together a 6-hour Amador Wine Tasting Tour in a limousine for Saturday. This is optional, of course, but if you'd like to do the tour, please notify Danita at danitakmoon@gmail.com. It'll only be $50/person if we can get 6 people per limo. And if you want to rent a car and go a bit farther, you could visit the delta (one of only two inverted deltas in the world; the other is in South America), the old gold mining towns along Highway 49 (like Whiskey Creek!), Lake Tahoe, the Napa Wine Valley and/or San Francisco.
Member Mondays and Other Bios: The book group member who is invited to be our Member Monday will receive one of our special autographed and personalized book group bookmarks as well as a $10 Barnes & Noble gift card. Yay! But she must also agree to send a favorite book or a book she'd recommend to the previous spotlight (so she has a small responsibility, too). We also have regular daily bios–two from members per day. We began with the A's and are now on the B's. If your first name begins with a B, feel free to post a short bio to let us know more about you–and I will approve and put it through as soon as there's an opening (to make sure everyone's get seen).
Brenda Novak 2017 Reading Challenge: Anyone who fulfills the monthly Brenda Novak reading challenge will be entered into a drawing for something fun (something different each month), which will be held the 15th of the month following. For January, it was for a book group T-shirt (winner's choice of style, color and saying). And if you fulfill all twelve months, you will be entered into the grand prize drawing, the winner of which will have one of my 2018 releases dedicated to them (winner will be chosen and notified via Facebook and email the first week of January 2018). Are you up for the challenge? I hope so! Sign up to participate here and download your challenge card (which looks like the picture below).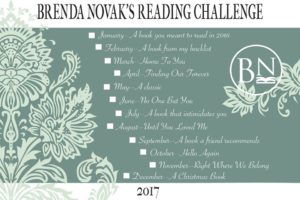 Brenda Novak Backlist Award: Anyone who has read 50+ Novak books (no matter how long it has taken) will receive this lovely commemorative pin. In order to receive your pin, download this list of my titles //brendanovak.com/bookshelf/book-titles-pdf/, mark off the books you've read and scan and email the list to my assistant, Danita Moon, at danitakmoon@gmail.com. (If you'd like to snail mail it instead, you can send it to Brenda Novak, P.O. Box 3781, Citrus Heights, CA 95611).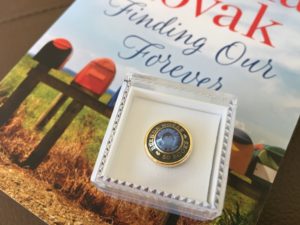 Member Birthdays: We will post a Happy Birthday to all members who have a birthday in the current month. Those who fit that category will post the day of theirs and then we will draw one winner per month to receive a Brenda Novak mini-tote and autographed Brenda Novak book of her choice (providing we have that book in stock).
Christmas Ornament Exchange: Details coming in December 2017.
Foodie Friday: Each week a member of the group makes a recipe and posts it along with a picture for the enjoyment of the group. Each weekly "cook" receives an autographed collectible recipe card from my own series of Foodie Fridays, and they also choose someone in the group to do Foodie Friday the next week.
Rules: We don't have many rules for the group. You're free to post anything positive, even if it's not book related (if you just had a new grandbaby, for instance, or you're traveling to Peru, or you just won the lottery–LOL). The only "please don't post this" would be anything that attacks someone else, anything political, anything that asks for votes or likes and anything that's trying to sell something. We even have a weekly post called Hopeful Heart Sundays, where you can post anything challenging you're dealing with to get support and prayers from the group.