JOIN NOW
Book Group
Welcome to my book group. This is an online group of avid readers that utilizes what's called a Facebook "group" page. We are 11,100 members strong and are quickly becoming friends as we share our love of books. If you are on FB and haven't joined yet, you can do so here: https://www.facebook.com/groups/brendanovaksbookgroup/.
If you just joined, the following information will bring you up to speed very quickly.
To welcome you to the group, I'd like to offer you a FREE copy of two different Brenda Novak titles. The first, WHEN WE TOUCH, is the kick-off to my critically-acclaimed small town contemporary romance series, Whiskey Creek. You can download that here: http://brendanovak.net.
The second, HANOVER HOUSE, is the kick-off to my chilling new suspense series about a psychiatrist who studies serial killers at a remote facility in Alaska (and her sexy love interest, who is an Alaskan State Trooper). You can download that one here: http://brendanovak.net/hanover-house/.
Notification Settings: To designate what you would like to see from the group, you can choose all posts, only highlights, friends' posts. Please select all posts if you don't want to miss anything that is happening in the group. Highlights would be the next best choice and will show you the popular things that are happening in the group. To make sure you have set your notifications to your desired choice, simply go to Brenda Novak's Book Group at: https://www.facebook.com/groups/brendanovaksbookgroup/. On the bottom right of the banner photo, you'll see the buttons, "Joined," "Share," and "Notifications." You can click your preference there.
Book Group Meetings: We have a meeting once a month in which we feature one of my books or that of a guest author. Either I will do a Live Feed, or one of the guest authors will, so that you will get to discuss the book with its creator. This will happen on the Book Group page (we were creating an Event Page for this but are making the change to make it easier for book group members to find). For November, we are reading my latest release, RIGHT WHERE WE BELONG, part of my new Silver Springs series. The book group meeting will be Thursday, 11/30 at 5:00 p.m. pacific/8:00 p.m. eastern at this link:  https://www.facebook.com/groups/brendanovaksbookgroup/.
Book Group Bookmarks: These are not only personalized (with your full name in the actual printed design), they are autographed by me and commemorate the year you entered the group. We give these away randomly to people who participate by posting, commenting and attending the monthly meeting. If you'd like one of these and don't want to wait, you can order them from my website at this link: //brendanovak.com/store/.
.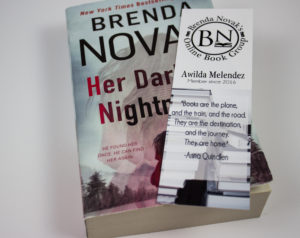 Professional Reader Boxes: These have been a HUGE hit! We sell out every month, so grab yours early. What's inside? That's different every month, but I can tell you this much–they will contain a print copy of the book we are reading for that month (autographed by the author!) or a substitute book of mine (generally one that is hard to find), at least two of my favorite things and a surprise gift that you won't know about until you receive the box. One random person each month will receive an even "bigger" mystery gift. We will announce the contents for the next box at the first of each month, and you will be able to order it then or the day after (providing they're not all gone). Payment is due by the 7th of the month. The box ships three weeks later, on the first of the following month. Here's the link where you can get the next box or sign up for a monthly or yearly subscription: https://brendanovak.com/store/.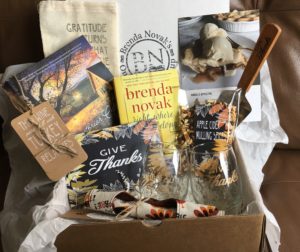 Brenda Novak Launch Party: Brenda Novak Launch Party: I'm planning a big in-person Harvest Day on the Delta (we have one of only two inverted deltas in the world) here in Sacramento in September or October 2018. It's going to be a special afternoon where you will be shuttled to STEAMBOAT LANDING via boat from the wharf at Old Sacramento, receive a tour of the four-generation pear farm we'll be visiting, have a lovely dinner in the farm's fabulous barn (made for large gatherings), receive some fun items to take home and be able to get any Novak book signed (including the newest release). Start saving for the trip as it's going to be spectacular and look for more details on this event to be forthcoming.
Member Mondays and Other Bios: The book group member who is invited to be our Member Monday will receive one of our special autographed and personalized book group bookmarks as well as a $10 Amazon gift card. Yay! But she must also agree to send a favorite book or a book she'd recommend to the previous spotlight (so she has a small responsibility, too). We also have regular daily bios–two from members per day. We began with the A's and are now on the B's. If your first name begins with a B, feel free to post a short bio to let us know more about you–and I will approve and put it through as soon as there's an opening (to make sure everyone's get seen).
Brenda Novak 2017 Reading Challenge: Anyone who fulfills the monthly Brenda Novak reading challenge will be entered into a drawing for something fun (something different each month), which will be held the 15th of the month following. For January, it was for a book group T-shirt (winner's choice of style, color and saying). And if you fulfill all twelve months, you will be entered into the grand prize drawing, the winner of which will have one of my 2018 releases dedicated to them (winner will be chosen and notified via Facebook and email the first week of January 2018). Are you up for the challenge? I hope so! Sign up to participate here and download your challenge card (which looks like the picture below).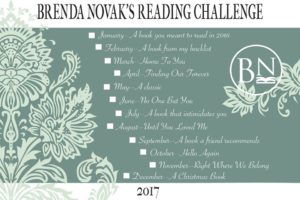 Brenda Novak Backlist Award: Anyone who has read 50+ Novak books (no matter how long it has taken) will receive this lovely commemorative pin. In order to receive your pin, download this list of my titles //brendanovak.com/bookshelf/book-titles-pdf/, mark off the books you've read and scan and email the list to my assistant, Danita Moon, at danitakmoon@gmail.com. (If you'd like to snail mail it instead, you can send it to Brenda Novak, P.O. Box 3781, Citrus Heights, CA 95611).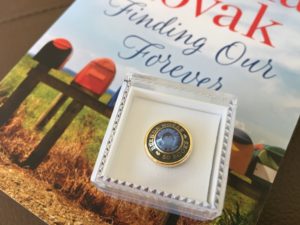 Member Birthdays: We will post a Happy Birthday to all members who have a birthday in the current month. Those who fit that category will post the day of theirs and then we will draw one winner per month to receive a Brenda Novak mini-tote and autographed Brenda Novak book of her choice (providing we have that book in stock).
Santagrams: Santa Grams will be available now through December 15th (while supplies last). What are BN Santa Grams? They're the perfect little holiday gift or pick-me-up! They each contain a darling pair of "Santa suit bottoms" that hold an autographed Brenda Novak Christmas book, a limited edition Brenda Novak Book Group tree ornament, a festive 3 oz chocolate bar with a special message from me on the wrapper, and a personalized SantaGram (card). Order yours today: //brendanovak.com/store/product/santagrams/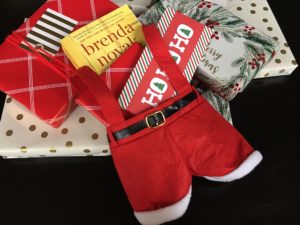 BN Book Buddies Program: Two book group members will be paired up as "buddies" for two months, during which they will send each other one letter/card or parcel per month. You can opt in at the free level (meaning you will be pen-pals and no money will be spent), or you can opt in at the $10/month, $20/month or $30/ month level–whatever you're comfortable with (you can spend more but don't expect any items of greater value than the category in which you are in). This is a great way to get to know other members of the group and to receive a fun surprise each month. The pilot program for the Book Buddies will launch November 1st, so be sure to sign up right away. Otherwise, you will have to wait until January 1st, when we reach start another round. Here's the link where you can sign up to participate: //docs..google.com/forms/d/e/1FAIpQLSc3ypLE_LQP5obII_nj-B36XM_jjA5uqkqw0-emAp_56RauUw/viewform
Tuesday Game Night: Look for our Tuesday Game Night post. It will be something fun you can participate in. We will award various prizes for participation depending on the type of game we're playing, which books are coming out, how many people get involved, etc. Most recently, we've been playing BINGO! Be sure to email Danita (danitakmoon@gmail.com) to get your BINGO card and join the fun on Tuesday at 6:00 p.m. pacific/9:00 p.m. eastern. We play right on the Book Group page via a Live Video: https://www.facebook.com/groups/brendanovaksbookgroup/
Book Group Invites: If you'd like to help spread the word about the book group by slipping an invite into my books as you find them in stores, you can go to the following page //brendanovak.com/book-group-invite/ to print out some.
Charity Project: Brenda Novak's Online Book Group is involved in supporting Debbie Macomber's charity project, Knit1Bless2. Everyone who enjoys knitting or crocheting is invited to participate in making hats for needy babies. Even if you don't knit or crochet, you could donate money toward shipping or buying caps in the store. Member Dana Kelly is heading up this project. If you'd like to be in touch with her, simply hit the contact button on this website, and I will forward your message.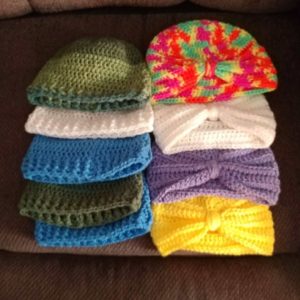 Rules: We don't have many rules for the group. You're free to post anything positive, even if it's not book related (if you just had a new grandbaby, for instance, or you're traveling to Peru, or you just won the lottery–LOL). The only "please don't post this" would be anything that attacks someone else, anything political, anything that asks for votes or likes and anything that's trying to sell something. We even have a weekly post called Hopeful Heart Sundays, where you can post anything challenging you're dealing with to get support and prayers from the group.