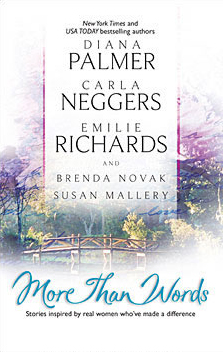 with Debbie Macomber and Meryl Sawyer
includes Brenda's novella, SMALL PACKAGES
February 28, 2012
Even as you read these words, there are women just like you stepping up and making a difference in their communities, making our world a better place to live. Three such exceptional women have been selected as recipients of Harlequin's More Than Words award. To celebrate their accomplishments, three bestselling authors have written short stories inspired by these real-life heroines. Brenda Novak's SMALL PACKAGES shows us how the love of a very special baby boy helps two people get past their pain and embrace a hopeful future . . . together. Debbie Macomber touches the heart in WHAT AMANDA WANTS — a young woman's story of strength and courage in the face of seemingly insurmountable odds. Meryl Sawyer explores the importance of creating balance in our lives, stopping to smell the roses and making time to chase our dreams in WORTH THE RISK. These stories will keep you thrilled and chilled late into the night.
Note: Brenda's novella, SMALL PACKAGES, also appears in the earlier anthology, More Than Words.
About SMALL PACKAGES
Brenda's story, SMALL PACKAGES, is based on Tera Leigh and her Memory Box Artist Program.
Harrison Ferello is determined to make something of his life, something that proves he's nothing like the no-good man who fathered him. He has no plans to marry or settle down, to take the risk that his father's poor parenting skills might be in his genes. He's going to become a doctor and do great things. But then he finds out that Lynnette, the woman he once loved but hasn't heard from for months, has been keeping a devastating secret. She's pregnant — with twins.
For Harrison, there is only choice. He'll be the best father he can be, will support the children and Lynnette as much as possible. But as soon as he's made his decision, Lynnette and one of the babies die in childbirth. Now he's facing an even more difficult decision — what to do with his new son, a child he didn't even know he'd created until two weeks ago.
Noelle Kane knows what it's like to suffer the loss of a child. That's why she's gotten involved with the Memory Box Artist Program, which provides memory boxes to grieving parents. She finds helping others in this way very cathartic — until she meets Harrison Ferello. She knows Harrison is reeling from the recent changes in his life and, against her better judgment, agrees to help him by adopting his infant son. She's eager for a second chance at motherhood, and is fairly certain Harrison will walk away without a backwards glance. But Harrison soon realizes that he can't really let go of his baby that easily, not without turning out just like his father. Then he and Noelle must both decide what role they'll play in the child's life — and in each others.
What is Tera and her Memory Box Artist Program all about?
The Memory Box Artist Program is an all volunteer effort to provide boxes for families of infants that pass away in the hospital so that the families did not leave the hospital empty handed without any representation of that child's life. To date, the program has provided more than 60,000 boxes for infant bereavement programs.
The purpose of the program is to affirm that life for the family. Each box is created with great love and a sincere wish to reach out in support and understanding. Each infant is special and very, very loved, regardless of how long the child lived.
To find out more about the Memory Box Artist Program, visit www.memoryboxes.org.